What happened to exits?
Per multiple sources and news headlines, 2017 was billed as the year of the exit.
Taking a step back, let's review private equity exits over the last four years. It's no surprise that 2014 was a banner year for exits, given that sponsors on average hold an investment for 5 to 7 years. This would have been prime time for investors to sell or capitalize on assets that were acquired since the 2008 financial crisis.
Getting back to what happened in 2017, it could be argued that exits weren't as robust as they were touted to be, as sponsors were potentially waiting for Washington to deliver on tax reform. Of course, tax legislation was passed at the end of 2017, which may significantly impact exits this year. Having said that, so far in 2018 (Jan 1 – Feb 12), 65 exits have occurred by a sponsor, whereas, the same period in 2017 had 82 exits.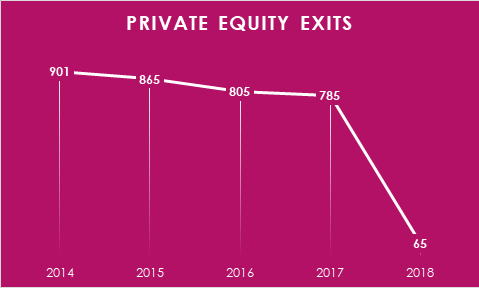 We've wanted to write a Source piece about the first year of the Trump administration and its impact on the M&A market, but from a deal sourcing perspective, we need more time. Tax reform has the potential to massively influence deal flow and exits. In fact, ACG is hosting a webinar with DHG LLP later this month regarding the tax reform implications on private equity – could be worth a listen. Now, a change in leadership in Washington often affects which sectors are more active – it's always infrastructure week! – if an infrastructure bill were to pass we may see an increase in deal volume in certain sectors. For now, we're waiting to see what the numbers show over the next few months.
Looking for the exit sign (from this blog post…)
Of the 785 sponsored exits that transpired in 2017, 39% were sold to a strategic buyer, with the majority or 61% selling to another sponsor. August was the most active month for deals traded, with 53% of all exits transacting in the second half of the year.
While most exits closed in the city of New York, when performing as a group, the Great Lakes region once again bested other regions in the country for exits (the Great Lakes outperformed last year, as well. I last wrote about exits for the twelve-month period of April 2016 – March 2017). Roughly 16% of all exits in 2017 occurred in the Great Lakes region, with 10% of those transactions occurring in Chicago, followed closely by Cleveland, Indianapolis, Elkhart, and Ann Arbor. Common for this region of the country, the most exits in the Great Lakes were Industrials: Equipment & Products, followed by Materials: Chemicals, Minerals, & Plastics and IT: Software & Services.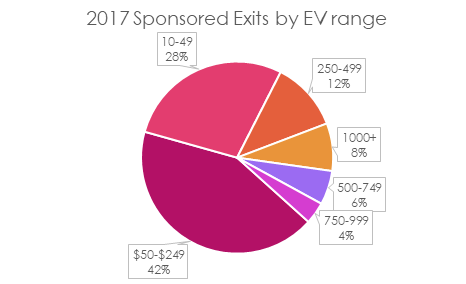 Coming back to 2017 overall exits, 17% were in the Industrial: Equipment & Products subsector, followed by IT: Software & Services (11%); Food: Consumable Food Products (5%) and Materials: Chemicals, Minerals, & Plastics (5%); and finally, Media: Marketing & Sales Services (3%). As mentioned previously, most deals closed in New York, followed by Houston, Dallas, and Chicago. Interesting, 42% of deals exited were in the $50M – $249M EV range.
Exits are a momentous occasion, and even as private equity exits continued to decline in 2017, perhaps with regulatory reform and a stronger economy, 2018 will once again have sponsors running for the exits.
Last week's deals today
February 5 – February 9, 2018
~114 deals traded!
Deal of the week
Roark Capital Group's portfolio company, Inspire Brands, acquired Buffalo Wild Wings, Inc. (nka Inspire Brands, Inc.) this week. Barclays Capital and Goldman Sachs both advised on this transaction.
Most active subsectors
IT: Software & Services
Industrial: Equipment & Products
Financial: Services
Financial: Asset Management & Advisory
Financial: Insurance
Most active cities
New York
San Francisco
Knoxville
Vancouver
Louisville
Raleigh
Photo by Patrick Perkins on Unsplash.