The SPS Mezzanine Market Perspective is available here. The Perspective details the breakdown of the mezzanine market and a few notable transactions during the latest period. Subscribe now!
Notable mezzanine transaction
Earlier this month, Upstream Rehabilitation Inc. (Revelstoke Capital Partners' portfolio company) announced its acquisition of Drayer Physical Therapy Institute, LLC. This transaction was supported by mezzanine capital from Yukon Partners. With the caveat that there is a considerable lag in mezzanine data, this is one of the larger transactions with a mezzanine component that has closed so far in 2018.
63% of mezzanine transactions involved a sponsor
Since 2010, nearly 4,000 mezzanine debt transactions have traded with 63% of those deals involving a sponsor. The largest share of these transactions traded in the Great Lakes region.
For the 63% of deals that involved a sponsor, let's analyze the top five most active mezzanine lenders between Jan 2010 – December 2017 to answer a few questions:
How many different sponsors do these lenders work with?
What proportion of their business is concentrated on their most active relationships?
What does this mean for you? Where are your sponsor relationships concentrated?
The associated table illustrates the variance of activity for the five most active mezzanine lenders.

What is the variance of activity for the five most active mezzanine lenders?
For the top five most active mezzanine lenders, most of the sponsored transactions that traded were by a firm that the mezzanine lender supported three times or less. Moreover, 40% of deals that traded were by a sponsor that closed a single transaction.
The associated bar chart illustrates the most active subindustries that had a mezzanine component provided by one of the top five most active mezzanine lenders. The top two subindustries are exactly what you would expect (Industrial: Equipment & Products and IT: Software & Services); however, the further down you look, the list is more compelling. The third most active subindustry for these five mezzanine lenders is the Food: Consumable Food Products, which comprised 5% of transactions, followed by Materials: Chemicals, Minerals, & Plastics (4%) and Consumer: Misc. Products (4%).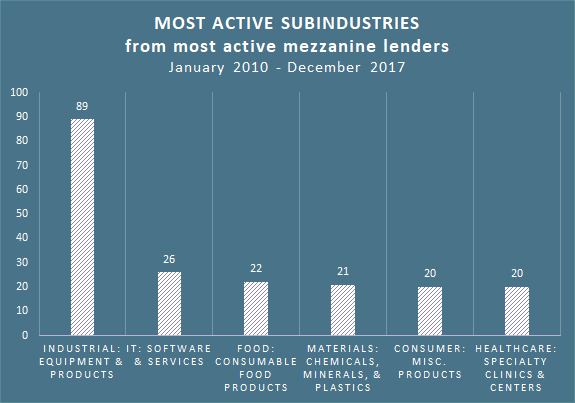 In total, ~13% of deals that closed with a mezzanine component from the five most active mezzanine lenders derived from their most active sponsor relationship. For example, of the 135 deals that Mezzanine Lender A supported, 15 of those transactions came from their number one relationship. Furthermore, an average of 27% of deals for Mezzanine Lender A came from its top three existing sponsor relationships.
Mezzanine lenders value their relationships with sponsors, and as such should focus on building those relationships early and often. There are plenty of opportunities for mezzanine lenders to grow their business. In fact, in the last year 78% of active sponsors, or approximately 1,400 firms, completed three deals or less. How are you covering these relevant deal sources?
Last week's deals today
January 15 – January 19, 2018
~103 deals traded!
Deal of the week
Uber Technologies, Inc. completed its sale of stock with SoftBank Group Corporation for approximately $9.3 B.
Most active subsectors
IT: Software & Services
Industrial: Equipment & Products
Media: Marketing & Sales Services
Healthcare: Misc. Services, Asset Light
Healthcare: Specialty Clinics & Centers
Services: Marketing & Related
Most active cities
New York
San Diego
Kansas City
Boston
Austin
Phoenix
San Francisco
Photo by Matthew Payne on Unsplash.