You are sitting at the dinner table one day and you are asked, "where do buyouts come from?"  What do you say?  Are you prepared to have the conversation?  Last year, we published a Source piece on where sponsors acquire and invest in new platforms from, with trends indicating that the percentage of private company sellers have increased steadily since 2012.  In the same post we postulated that the number of quality private companies that are willing to sell could fall YoY due to certain economic conditions and overall macro environment. So, as promised, here is an update on where sponsors source platform deals from and whether the supply of PE sellers has changed.
Private companies have comprised a majority of the seller market, but looking at the graph below, there could be some signs that there may be a shift from sourcing privately to sourcing from other PE firms. The graph illustrates new sponsor platforms YoY broken down by the seller type, and noticeably, 2019 experienced the first decrease in private sellers since 2012, followed by a simultaneous increase in PE sellers.
It may be too early to detect any concrete trends in the market, as the percentage of PE sellers have consistently oscillated between 27% and 31%, but it is worth noting that last year's level of 30% is the highest it has been since 2014.  Sponsors looking to buy from other sponsors could be looking at favorable conditions if the trend continues as the sell-side supply for their market increases and platforms get ready for exit.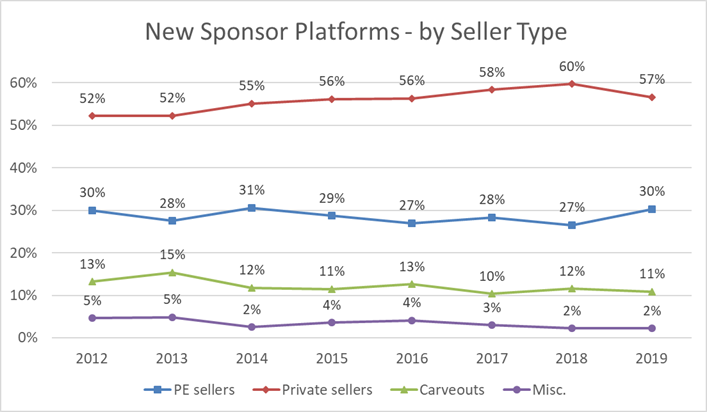 Online data and match making
The seller market is competitive. The hunt for quality private companies is exhaustive, increasing multiples are making sponsor to sponsor transactions more expensive, and recession anxieties are driving firms to keep valuations under control. Using data and technology to help your firm source deals could be a significant advantage in the current landscape. By building the right relationships with the right intermediaries, sponsors, and other service providers, you can optimize business development efforts and ensure efficient deal sourcing.
So, when you are having "The Talk", you can respond, "Sometimes, a sponsor and private company love each other very much, and other times, a sponsor falls in love with another sponsor's platform.  Either way, online data-ing is changing the way relationships are formed."
Last week's deals today
March 2 – March 7, 2020
~178 deals traded!
Deal of the week
Odyssey Investment Partners acquired NSi Industries LLC from Blue Sea Capital.  NSi is based in Huntersville, NC and manufactures electrical connectors, time switches and other electrical components.  Harris Williams acted as sell-side financial advisor and Jones Day served as legal counsel to NSi.
Most active subsectors
IT: Software & services
Industrial: Misc. equipment and products
IT: Services
Services: Misc., asset light
Services: Marketing and related
Most active cities
New York
Toronto
Dallas
Chicago
Charlotte
Houston
Photo by Lukas Blazek on Unsplash