… When a sponsor meets a quality asset
We're fortunate to work with a wide variety of PE firms, that source and invest in ways that are increasingly more diverse. Some are hands-on, focusing their energies on finding companies ready to make that big leap, providing significant operational expertise to get them to the next level. Others avoid being the "first institutional capital" and prefer to purchase companies from fellow PE firms that enjoy rolling up their sleeves. Both approaches can produce impressive returns, although their success does not always move in tandem.
For Sponsor A – an operationally focused lower middle market fund – to invest in new platforms successfully, there needs to be a steady supply of private companies, that can be convinced to sell. This is a bit reductive of course, but then again this is also a blog post, not a white paper.
For Sponsor B – a middle market fund writing checks above 100 MM – to invest in new platforms successfully, there need to be enough PE firms willing to sell their own platforms at a favorable valuation. The conflict is obvious, as the favorable valuation cannot be so high that Sponsor B puts itself in a position where they struggle to generate significant returns when eventually selling it, simply because the initial purchase price was already so high. Is the juice worth the squeeze, so to speak.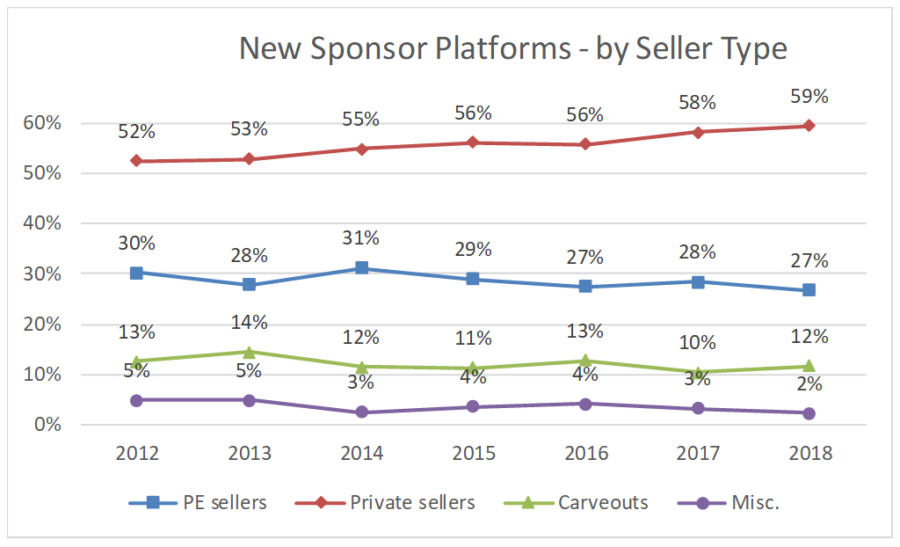 Take a look at the chart above, where we analyzed all new Sponsor platforms YoY, segmented by the Seller Type on those specific platform investments. Since 2012, the percentage of Private Company sellers has risen steadily from just over 50%, to nearly 60%. This is an exciting trend for Sponsor A in our example above!
However, the percentage of sellers that are PE firms has been moving sideways between 27% and 30% over the same time period, settling at the bottom end of this range as of 2018. For Sponsor B in our example, this trend is unlikely to inspire an enthusiastic response.
On this harvest moon
We have a couple thoughts, collected from spirited client discussions and our own experience tracking market trends.
The sponsor community has only so many companies they can harvest at any given time, especially after multiple years of "seller market" conditions
Record fundraising has helped fuel the rise in valuations several years in a row, which erodes negotiating room for sponsors to buy and sell to each other without compromising their own returns
Recession-proofing is in vogue again, adding additional pressure on deal-makers to control valuations
That aside, operationally focused sponsors shouldn't get too comfortable either. There could be a breaking point, where the number of quality private companies willing to sell drops significantly YoY due to a trade war flareup or increased posturing from the Fed. The resulting gap of acquisition opportunities could then spark a domino effect in reducing the supply of PE sellers, thereby impacting sponsors that invest further upmarket. Or maybe none of that will happen, either way, we'll write about it here on The Source.
Last week's deals today
March 18 – March 22, 2019
~77 deals traded
Deal of the week
Gryphon Investors completed its acquisition of the Baltimore, MD based
Learn It Systems LLC
, purchased from fellow sponsor, LLR Partners. Both Harris Williams and Berkery Noyes & Co., acted as sell-side financial advisors.
Learn It Systems
provides academic and special education programs for public, private, and charter schools in the United States. Referring to our earlier example, LLR is Sponsor A, and Gryphon Investors, Sponsor B.
Most active subsectors
IT: Software & services
Media: Marketing & sales services
Industrial: Services
Construction: Services
Healthcare: Specialty clinics and centers
Most active cities
New York
San Francisco
Atlanta
Los Angeles
Minneapolis