It is Labor Day Weekend, which marks the unofficial end to summer! Yet, this summer gave no rest for the weary, as M&A activity has not slowed down as in previous years. Deal flow was active and robust since Memorial Day, and here is a profile of those active firms capitalizing on market conditions by buying, selling, or advising on the most transactions.
For the period beginning Memorial Day, May 28th through August 24th, more than 1,730 deals have traded with 7% of those transactions being a private equity exit selling to a peer sponsor investor. The most active sub-sectors in this period are IT: Software & Services (19%); Industrial: Equipment & products (11%); and Services: Marketing & related (6%).
Summer shopping splurge
Reviewing the deal activity during this period, 47% of transactions involved a private equity investor. These 15 investors went on a shopping spree this summer acquiring seven or more deals in this period, including add-ons: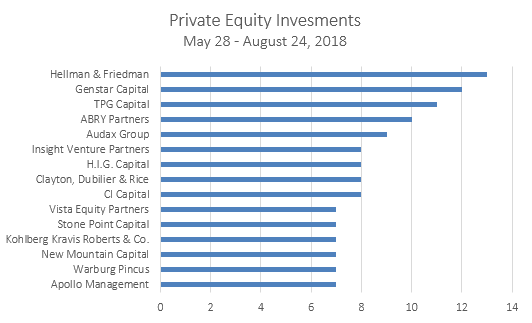 Sell in May and go away
Private equity exits comprised 12% of deal activity during this summer. Of the 204 exits that have transacted so far, these are the eight most active private equity sellers: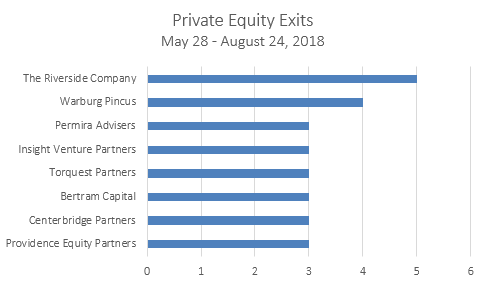 Who are the most active advisors?
During this summer boom, 17 investment bankers advised on 10 or more deals: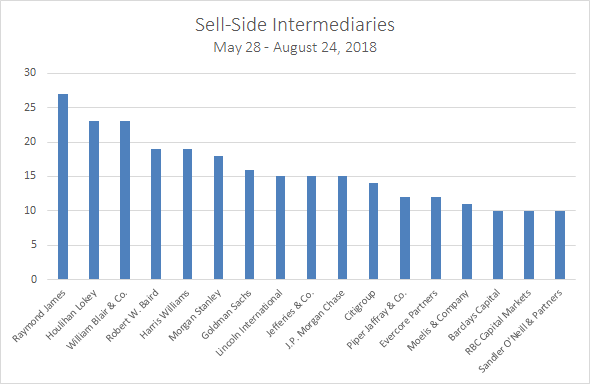 Technically, the summer will not end until Mid-September, so there is still time for more deals to transact this season. However, we are more-than halfway through the third quarter, and heading into the home stretch of 2018. It has been a robust year for deal-flow, fueled by tax reform, tremendous amounts of dry powder, and a potentially record-setting year on Wall Street. Let's finish this year on a strong note, as we begin to think of new business development and deal sourcing strategies to employ in 2019. The boom won't last forever.
Last week's deals today
August 20 – August 14, 2018
~88 deals traded
Deal of the week
Equity investor, Francisco Partners completed its acquisition for Verifone System for $3.4B. Verifone is based in San Jose, CA and is a provider of mobile payment solutions. Qatalyst Partners acted as the sell-side financial advisor, and Sullivan & Cromwell provided sell-side legal advisory services.
Most active subsectors
IT: Software & services
Industrial: Equipment & products
Financial: Services
IT: Services
Service: Marketing & related
Most active cities
Houston
New York
Austin
San Diego
Seattle
Sunnyvale