Marathon Petroleum announced this week it intends to purchase San Antonio based refiner Andeavor for $23 billion dollars. Per the WSJ, refining is one of the most-profitable sectors, and this acquisition would create the largest oil refiner in America. Although, M&A activity in the energy sector has slowed down over the past five years; per SPS data, 2017 saw a decline in deals of 43% from its highs in 2015. As crude future prices continue to rise, perhaps we will see a bump in M&A activity in this sector.
This spring refresh your style
Last month we focused on refreshing and removing old relationships from your database and pipeline. This month, the focus is on refreshing your contact data by maintaining and nurturing those relationships that lead to more consistent and relevant deal flow. Many readers are attending ACG InterGrowth this week in San Diego, and while the conference is a madhouse of activity, attendees should consider introducing themselves to those active, yet lesser-known boutique advisors.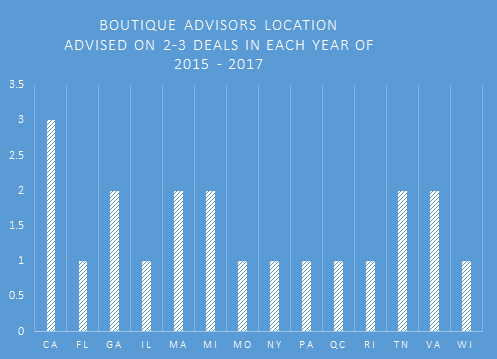 Shopping in the boutiques
SPS has long advocated that boutiques are great sources of dependable deal flow. Moreover, these advisors do not receive the same attention from other investors, as they tend to advise on more proprietary transactions. Reviewing SPS deal data over the three-year period (2015 – 2017), 141 firms intermediated three deals or less in each of the three years and 366 intermediaries advised on three deals or less in two out of the three years. As you refresh your deal sourcing strategy, consider growing relationships with these consistent firms.
Another benefit of working with boutique advisors is the closing process employed by these firms. Per the SPS Sell-Side Process Index, which classifies the closing process of an intermediary (broad, moderate, or limited), more than half of boutique advisors employ limited processes. This is good news for our refresh strategy, as deal flow from boutiques will alleviate the pressure and competition that derives from broad auction closing processes.
Who are the most active boutiques?
Referring back to those 141 boutiques that advised on 1-3 deals in each year of 2015, 2016, and 2017, 30 of those firms intermediated 2–3 deals in each year. These are the truly active boutiques to look for in San Diego this week. In fact, California is the top location for these 30 firms.
Digging deeper into these 30 boutique firms, per SPS data, these firms were most active in the IT, Services, and Financial sectors (see the associated bar chart for top subsector). Predictably, these advisors are active in the sub $250M EV range, with 96% of their deals trading in this transaction subset. Finally, as mentioned previously, these firms consistently employ limited closing processes, per the SPS Sell-Side Index, with 56% of the deals they advised on in these years ranking as limited.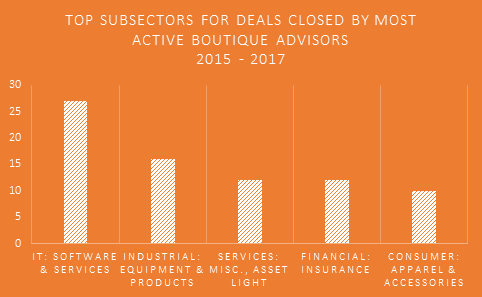 Boutiques also offer the greatest opportunity for private equity investors to improve market share of relevant deal flow and boost your fund's returns. The boutiques use of limited closing processes enables investors to build closer, more intimate relationships with these brokers and ensure that their firm is on the advisor's future buyers list. Furthermore, with less competition comes lower purchase multiples, and in today's aggressive market, this edge can make the difference in advancing IRRs into top-quartile fund performers.
Last week's deals today
April 23 – April 27, 2018
~67 deals traded!
Deal of the week
General Mills Inc. completed its acquisition of the private equity backed Blue Buffalo Pet Products, Inc. last week for $8B. Centerview Partners, Goldman Sachs, and J.P. Morgan Chase all acted as sell-side advisors for this transaction.
Most active subsectors
IT: Software & services
Industrial: Equipment & products
Services: Misc., asset light
IT: Services
Financial: Insurance
Most active cities
New York
Raleigh
Phoenix
Toronto
Boston
Photo by Ferdinand Stöhr on Unsplash.