Bob Goldsmith has a detailed piece in Forbes this month entitled, "The Specter of Recession, Private Company Valuation and M&A." Goldsmith contrasts the successes of 2018 with that of the pending turning business cycle for M&A in 2019. The most intriguing section delineates the dynamics of the middle-market and how non-bank lenders cope during a recession. As a lender in this heated market, how are you enhancing coverage of the active 2018 sponsors?
There were 311 newly active sponsors in 2018 that were involved in more than 335 transactions. The majority of these firms are based in New York, Chicago, Los Angeles, San Francisco, and Boston. Many of these sponsors could be considered "hot leads" for lenders, as they may not have a dedicated source for financing. It's time for lenders to build relationships, as these new funds look to develop their lenders of choice as they grow in 2019.
To get a better sense of these new entrants, the following two charts illustrate the most active industries for these new funds, as well as the regions that these firms were active in during 2018.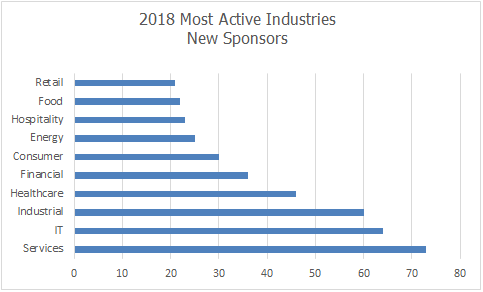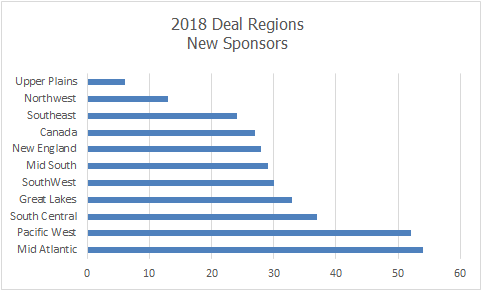 Overall, more than 3,900 sponsored transactions traded in 2018. Of those, 31% were platform buyouts and more than 55% were add-on investments. Looking a little closer, 592 deals were peer to peer private equity transactions. Of those peer transactions, 8% included a mezzanine component and more than 51% included senior financing.
As an M&A lender, it's valuable to examine private equity activity as a whole, as well as keep your pulse on those newly active funds. This intelligence could lead you to  your next deal. To learn more about the new sponsors active in 2018, or to learn how to receive this information in real-time, contact us.
Last week's deals today
January 21 – 25, 2019
~119 deals traded
Deal of the week
Equity investor EQT Partners completed its acquisition of Osmose Holdings from Kohlberg & Co. The Peachtree City based Osmose manufactures wood preservation chemistry and technology that provides specialty services to the utilities industries. Both Goldman Sachs and Harris Williams acted as the sell-side advisor on the transaction.
Most active subsectors
IT: Software & services
Industrial: Equipment & products
Financial: Services
Services: Misc., asset light
Financial: Services
Most active cities
New York
Houston
San Francisco
Atlanta