Who are the new sell-side advisors?
In Q2 2017, there were 30 new sell-side advisors that closed a deal for the first time; 11% of those firms were Texas based. There were ~200 unique professionals that advised on a deal for the first time in this period. This does not necessarily indicate that the investment bank that they represent is new to the M&A ecosystem.
Overall, intermediated deals for Q2 were dominated by the IT sector, followed by Services and Healthcare. The majority of advisors were active in the Mid-Atlantic region, followed by the Pacific West and Great Lakes.
Of all intermediated deals that traded to a sponsor in Q2, 40% had a Limited closing process, 33% had a Broad closing process, and 27% had a Moderate closing process. These stats are per the SPS Sell-Side Process Indicator.
Profiles of two intermediaries:
For sponsors to better understand the community of available advisors, this next part will profile two intermediaries from Q2.

LEHNS Capital Advisory
Charlotte, NC
New sell-side advisor to the SPS database
D.A. Davidson
Great Falls, MT
Active in the past several years
LEHNS Capital Advisory
In May of 2017, LEHNS Capital advised, alongside Alt Ridge Capital, LLC, on the buyout of Microf LLC from Rotunda Capital Partners to Atalaya Capital. Per the SPS Sell-Side Process Indicator, the deal had a limited closing process, and fell into the Consumer: Services and Financial: Lending sectors.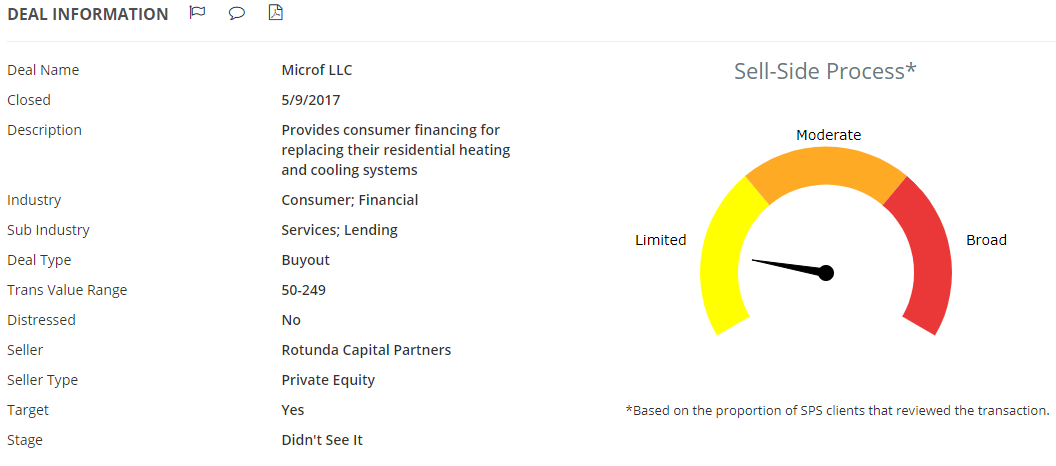 D.A. Davidson
In Q2, D.A. Davidson advised on two transactions: American Eagle Instruments, Inc. and Birchwood Lighting. Per the Sell-Side Process Index, D.A. Davidson runs a more moderate closing process. Moreover, the firm is active across the board in various industries, including, but not limited to, Financial, Energy, Consumer, IT, Food, and Transportation.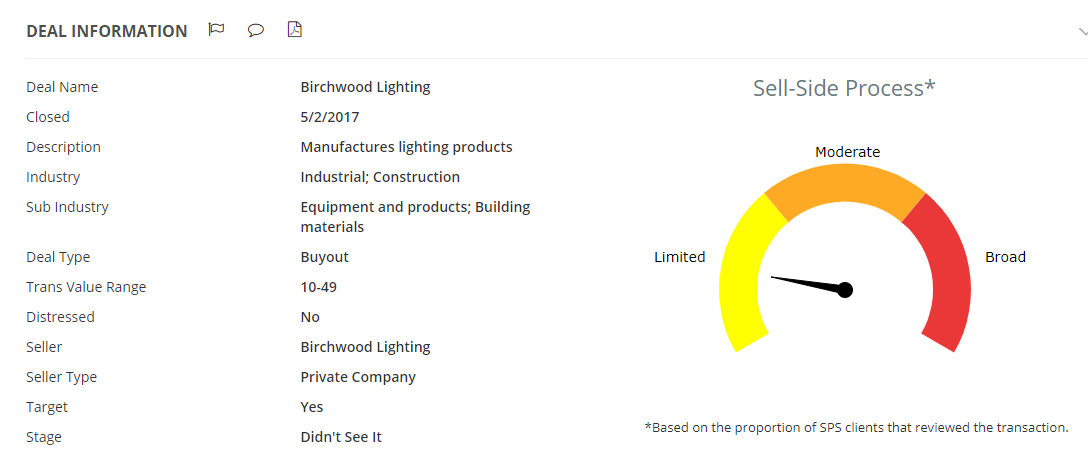 How should this data be interpreted?
Using these profiles, sponsors can analyze any advisor with real transaction data, to intelligently develop and/or adjust a sourcing strategy. The Sell-Side Process Indicator illustrates the type of closing process that an advisor utilizes, whether it be Limited, Moderate, or Broad.
As a sponsor, if you are looking for a more limited or quiet process, using this indicator can help to fine-tune your approach, as well as keep costs to a minimum. If you are sector focused, knowing which firms and professionals are advising on deals in your space will be more critical. Check out this post, to learn more about new deal sources.