If you're in the Northeast like us, you've likely welcomed the recent extended run of warm, sunny weather with mixed feelings. On the one hand you've probably broken quarantine to some extent to enjoy the great outdoors. On the other hand, the sight of friends, neighbors and strangers alike huffing into facemasks has grounded any feelings of euphoria. We're seeing the same dichotomy in the markets as news reports of PE firms preparing to take advantage of easing multiples across the market are tempered by reports out of the House of Representatives of potential temporary M&A activity bans.
2020 being yet another banner year of M&A activity is a long-gone dream. After bunkering down to evaluate portfolio holdings and the support programs available to each, PE firms are back on the deal trail, announcing their openness for business and in many cases expanding their investment activity to better accommodate market conditions. To the folks in the latter group, understanding both the volume and concentration of distressed deals an intermediary has completed will be key to effective outreach efforts over Zoom, Teams, and Meet alike.
SPS data shows that the percentage of distressed deals by the top 10 most active intermediaries ranges between 1.2-16.5%, with a median of 4%. While pursuing distressed deals, you may want to prioritize the intermediaries who specialize in distressed deals, such as Alvarez & Marsal, which has 88.2% of their total deals closing as distressed.
Often on distressed deals, you'll have more than one sell-side intermediary associated to the deal to account for restructuring agents, who apply their bankruptcy experience to keep the business afloat.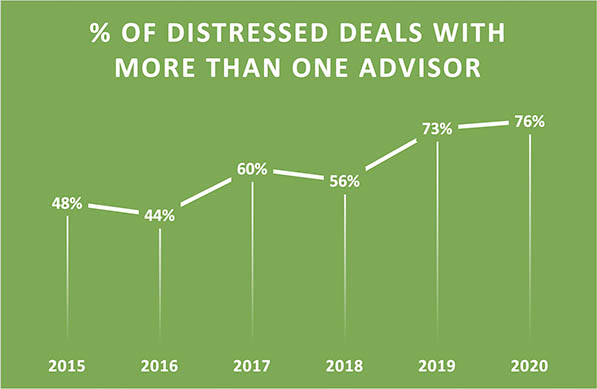 SPS users can view advisors and bankers closing distressed deals in their target markets, with a live cross-reference against their internal pipeline. An upcoming product enhancement for the SPS platform will enable sponsors to view lenders, law firms, and other PE firms most commonly involved in distressed deals as well. While this isn't available for on-demand usage yet, contact your SPS Account Rep for an ad hoc report in your target markets.
During the government shutdown of early 2018, we wrote that:
Times of crisis typically present opportunities, and the firms that capitalize on these moments are generally rewarded. While this shutdown may be an inconvenience at best and stall deal activity, it could be a catalyst in the M&A market to push more relevant deals across the finish line.
This author could not have said it better themselves. Sponsor firms that take measures to differentiate themselves, leverage data to source intelligently, and remain both agile and disciplined in their approach will continue to derive excess returns to their funds.
Last week's deals today
April 26 – May 2, 2020
~85 deals traded

Deal of the week
Onex Corporation completed the sale of its portfolio company, Kwikee, to The Jordan Company. Illinois-based Kwikee provides a management and distribution platform for branded product content. Drake Star Partners acted as the sell-side financial advisor. Fried, Frank, Harris, Shriver & Jacobson provided sell-side legal advice, while Kirkland & Ellis provided buy-side legal advice for this transaction.
Most active subsectors
IT: Software & services
Financial: Personal and commercial banking
Services: Misc., asset light
Services: Education
Telecom: Communication Services
Most active cities
Houston
Cincinnati
Dallas
San Antonio
Austin
Photo by Sean Stratton on Unsplash