In anticipation of a recession, M&A professionals far and wide are asking questions and offering predictions on how the market will take shape in the months ahead. At times like this, we at SPS turn to concrete indicators, such as historical deal data and the real-time experience of industry experts, to help PE firms navigate the choppy waters. Here are the facts.
Private Equity as a share of overall M&A activity has grown steadily over the past two decades. According to our latest data, 2021's boom in deal volume saw PE outpacing corporate investors for the very first time. This trend continued through the first three quarters of 2022, with equity investors accounting for just over half of M&A transactions for the period. However, in the wake of recent economic uncertainties, overall deal volume has begun to taper with the first three quarters of 2022 decreasing by approximately 11% compared to the same period in 2021. Q3 2022 deal volume dropped by 24% from Q3 2021. Notably, however, last quarter's activity was still slightly above pre-pandemic levels in Q3 2019.
On a recent episode of Source Talks, David Clark, Managing Director and Head of Financial Sponsors at Raymond James, spoke to one factor contributing to the current drop in deal activity: apprehension to sell on the part of sponsors. "We're seeing more private equity firms wait on selling companies. They are waiting to see when the market kind of settles out and some of the uncertainty around the recession goes away. They're being a little bit more patient in terms of exiting investments on the buying side."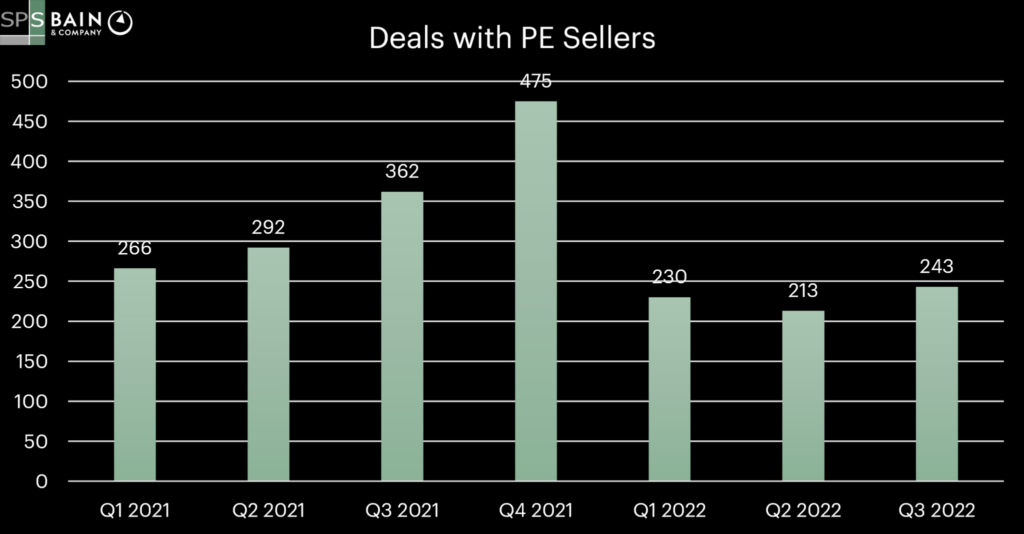 Closed deals across all industries, 10+ MM EV, based in North America, with private equity sellers
Indeed, this trend is clearly represented in our data. After sponsor-sold assets continuously increased over 2021, during the first three quarters of 2022, deals with PE sellers have decreased by 25% compared to the same period in 2021.
An attitude of patience was echoed in another recent interview with Ian Larkin, CEO of Maranon Capital, who pointed to an evolving investment approach due to current market conditions. "We're spending much more time looking at forward interest rates, forward yield curve, and the impact on covenant levels, cushions, et cetera," he said. However, he qualified that while the prospect of recession has impacted their consideration of transactions, "It hasn't significantly impacted our appetite and our willingness to invest."
If deal flow is an indication of a keenness to invest, this sentiment seems to be shared across the marketplace. Based on firms' pipeline stats, Q3 2022 deal flow was the second highest on record for this period and was significantly higher than pre-pandemic levels.
While it certainly is a time to be strategic, with deal flow remaining robust and PE displaying resilience in the face of adverse macro trends over recent decades, high quality deals will retain their attractiveness to firms with a defined investment criteria and smart deal sourcing. Many originators are looking to data analytics and tech-enabled resources to create efficiencies in their business development practice. Below are some SPS features to take advantage of during this period and capitalize on:
PE Harvest: While playing the waiting game, use this report to track sponsor-owned targets in your target segment and be ready when they come to market
Pipeline Analysis: Monitor the trading status of relevant assets, receive Broken Deal Alerts direct to your inbox, and identify the professionals involved
CRM Integration: Combat high levels of intermediary churn and data staleness by automatically updating contact data for active intermediaries closing relevant deals