U.S. consumer spending has surged this year, and so have consumer buyouts and add-on deals by private equity firms and corporations.
With widespread vaccination bringing the Covid-19 virus to heel, American consumers have opened their wallets again this year. Accounting firm Deloitte forecasts consumer spending to rise 8.1 percent this year. That's up from a dramatic fall of 3.8 percent in 2020.
In particular, according to Deloitte, food services, travel and leisure have become more popular with Americans in 2021. All three are areas that consumers cut back on significantly in reaction to the global pandemic.
Buyout and add-on activity has followed suit. In the United States and Canada, private equity firms and corporations have so far this year acquired 528 platform companies and add-ons in consumer products and services, according to an analysis of data tracked by deal sourcing platform provider SPS by Bain & Co.
That puts the industry already ahead of last year's tally of 520, and within shouting distance of the 578 consumer deals logged in 2019. Popular sub-sectors this year include sports and recreation (75 transactions logged), cannabis (66), health and cosmetics (64), pet products and services (63) and consumer services, such as food delivery services (63), according to SPS by Bain & Co.
Banks are also in on the action. Below is a table of the most active intermediaries this year.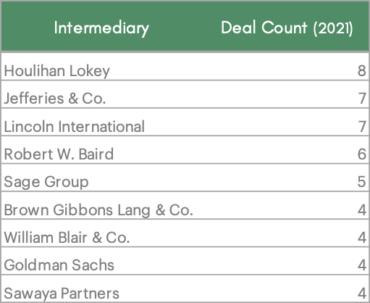 Speaking during a mid-summer webinar on consumer and business services deals, Laura Holden, investment banker at Raymond James, said that the consumer deal market is as frothy as it's been since 2006 when she first broke into the business. "Now the difference is that you have…this whole new crop of direct-to-consumer businesses that are doing really amazing things," such as harvesting data "in a way that's been never done before," she said.
Holden said valuations have surged across the board for consumer deals. It's particularly true for some of the newer categories, where public valuations are also high, such as plant-based beverages, plant-based meats, and tech-enabled apparel. She added that millennials have "graduated into the chaos that is early parenthood," which has led to a burst of new products and services designed to ease their lives.
Private equity sponsors that have done at least three buyouts and add-ons in the consumer sector this year include the following:
Betram Capital, which acquired aquarium supply maker Bulk Reef Supply in a platform deal, in addition to completing four add-on deals;
Blackstreet Capital, which acquired Red Apple Stores Inc. in a platform deal, in addition to completing two add-on transactions;
Centre Lane Partners, which did three add-on transactions, including that of SureFit Home Décor;
Dane Creek Capital Corp, which acquired platform company Lucky Paws Enterprises Inc, along with completing two add-on deals;
Incline Equity Partners, which acquired Starwest Botanicals and Revival Animal Health in platform buyouts, along with completing two other add-on deals;
Kinderhook Industries, which has closed four add-on acquisitions so far this year, including Yesterday's Tractor and Primal Pet Foods;
Platinum Equity, which acquired pet product maker Doskocil Manufacturing Co, golf cart maker Club Car and sewing machine maker SVP Worldwide Ltd in platform acquisitions, along with completing an add-on deal.