This month, SPS Founder & CEO Nadim Malik presented a Market Update presentation and participated as a panelist at ACG Boston's annual M&A Outlook Forum. Fellow panelists included Benjamin Armour of Sullivan & Worcester, Alan Fullerton of Mirus Capital Advisors, and Kerry Muse of Windjammer Capital.
The analysis focused on M&A deal activity trends, with a spotlight on the Northeast US. Download the presentation slides here.
Beginning with a look at 2022 deal trends for the overall market, we dove into key insights gleaned from SPS data:
Following a rise in activity in 2021, 2022 saw nearly a 20% YoY decline in deal volume. Despite this, 2022 activity came in at the second highest level on record, and was the second consecutive year that PE outpaced corporate buyers as a share of overall M&A volume.
Quarterly deal volume followed a downward trend over 2022, a deviation from upward quarterly trends seen over recent years. Q4 2022 is down 40% compared to Q4 2021.
The trend in prior years of the buy and build and roll-ups accelerated in 2022, with PE firms completing 2.6 add-on deals for every platform.
Q4 2022 median deal flow dropped dramatically from the preceding two quarters, however it was the highest Q4 on record, and significantly higher than deal flow in Q4 2021. This may be an indication of stronger sourcing capabilities and broader auction processes, rather than a signal of high deal closings in the quarters ahead.
Industrials was the most active sector for PE activity, down less than 10% YoY from 2021. Business Services and Technology follow, with the Technology sector seeing the sharpest drop in deal volume.
Turning to the Northeast specifically, we dig into an analysis of deal activity, major players, and key opportunities in the region.
2022's most active sectors for PE in the Northeast followed suit with the overall market, with Tech and Healthcare seeing the steepest YoY drop-off in deal activity.
Software was the most active subsector within technology, with a significant number of minority non-control transactions. In both the Industrial and Business services verticals, the add-on and buy and build are prominent parts of the investment strategy. The Industrial Goods and Construction subsectors saw triple the amount of Add-ons than Buyouts over 2021-2022, with similar trends in Professional Services and Facility Management.
In terms of sell-side auction processes, 2022 had a significant shift to broader processes in the Tech sector compared to prior years. Conversely, the Industrials sector has a consistent trend towards more limited, less competitive processes over the last four years.
2022 League Tables showcase the most active intermediaries of last year, broken out by deal size ranges. Drilling further down to top players in New England, SPS data reveals 2022's top intermediaries and sponsors in the region.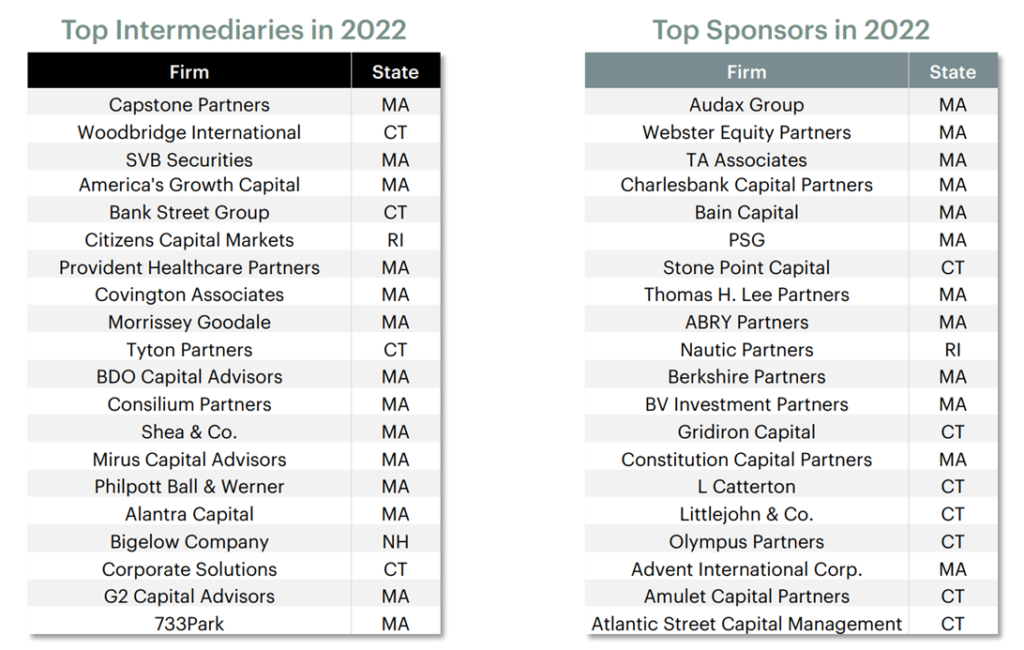 The most active sponsors and sell-side intermediaries based in the Northeast.
According to SPS data over 5,900 platforms that were acquired by PE firms between 2012 – 2019 are still being held and may trade again soon. With the ability to filter by deal sizes, sectors, geographies, maturity, and contact information for professionals at holding companies, SPS clients are enabled to get a granular view into relevant opportunities in their target segment before they come to market.
Learn how you can leverage SPS data and product features to get a comprehensive, customized view of the most relevant opportunities for your investment strategy.