"There's no substitute for going into someone's hometown, shaking hands or sharing a meal with them."
– Ryan Grand, Principle of Deal Generation at HKW, Source Talks Episode 27
This sentiment, accurate to many aspects of life and business, perhaps rings truest for those in deal sourcing roles. With the competitive landscape of the M&A market at a high and the trend toward narrow auctions, the return of business travel offers a direct opportunity for originations folks to forge connections with targeted advisors.
The resumption of regular business travel also resurrects the common questions and pitfalls we're faced with when planning a trip: Where to go? Who to meet with? How to maximize productivity over a short period? What to do when the meeting you confirmed twice is inevitably cancelled? Thanks to the SPS suite of Travel Planning features, this guessing game is replaced by strategic, system-driven, real-time data telling you where to focus your jet-setting efforts.
Let's map out your next trip using LTM data for the Industrials sector as a proxy. During this period, 685 deals with intermediaries traded in the US and Canada.
Where are we going?
The SPS mapping function (available via the SPS Portal and our Mobile App) allows you to prioritize trips based on top locations for relevant deal activity. According to our trusty map, most Industrials deals over the past year traded in New York and Chicago. Intermediary Analysis data tells us that most intermediaries involved in an Industrials transaction during this twelve-month period were headquartered in New York (19%), Chicago (8%), Los Angeles (3%), Minneapolis (3%), and Milwaukee (2%).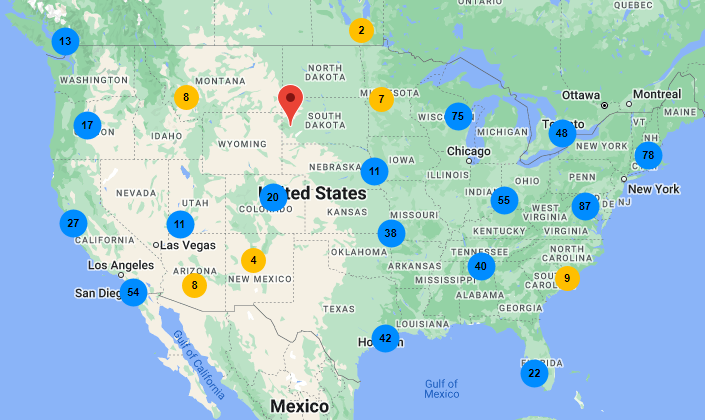 Who are we meeting with?
However, firms' headquarters location is not necessarily indicative of where individual professionals may be closing the most deals in a given target segment. SPS Intermediary Analysis data also allows us to sort by the branch locations of top active professionals closing deals in your specified market – right down to the name of the individual professional. Table 1 below shows us the top locations of active professionals closing Industrial deals within the specified timeframe, while Table 2 indicates the top 5 intermediaries closing deals in the target segment.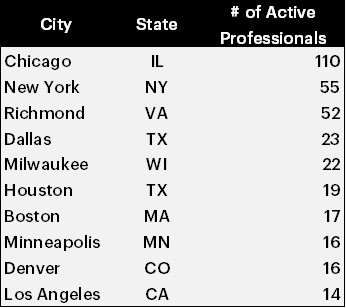 Table 1: Top locations of active professionals closing Industrials deals for LTM period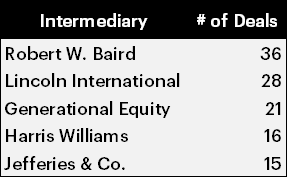 Table 2: Top Intermediaries closing Industrials deals for LTM period
Maximize your productivity
Prepping for an upcoming conference in Denver? Have free time during next week's stop in Charlotte? Already in Boston and your meeting fell through? We've got you covered, and it's as easy as pulling out your phone for five minutes. Produced with geospatial technology, our Mobile App allows you to identify relevant nearby firms and professionals, and to network and schedule meetings with them on the fly.
Never miss an opportunity to meet with the right people. Contact us to learn more about how you can optimize your travel strategy for the new normal.
Photo courtesy of Unsplash