PE and M&A professionals far and wide can agree on one thing: the last year has seen a shortage in supply of attractive assets. If firms haven't seen a dip in deal flow, odds are the volume of quality assets in their pipelines have taken a hit over recent quarters.
While folks seem to have reached a consensus view on this observation, there are still those perspectives on the current M&A market that are less universally held. We're debunking a few common misconceptions about the environment now, and revealing what the facts suggest about deal activity in the quarters ahead.
Myth #1: Banks aren't getting deals done
According to SPS data, overall M&A deal activity has declined in each consecutive quarter since Q1 2022. With this contraction, there is a common assumption that advisors have put everything on pause. But top investment banks are still closing plenty of deals, suggests SPS' analysis on the top intermediaries in the first half of 2023.
The chart above reveals the 20 most active firms in the first two quarters of the year, further broken down by the size ranges of deals closed. Houlihan Lokey and Piper Sandler Cos. led the pack, both with over 40 deals closed so far this year, respectively, and Goldman Sachs has notably closed the most deals in the $1000MM+ EV range.
On a recent PE deal sourcing webinar hosted by SPS, Jeff Pranaitis, Managing Director at investment bank Stifel discussed the types of deals they're looking at during this period, pointing to segments that have proven their economic resilience and where demand is driven by factors independent of market conditions, such as the fire and security services sectors.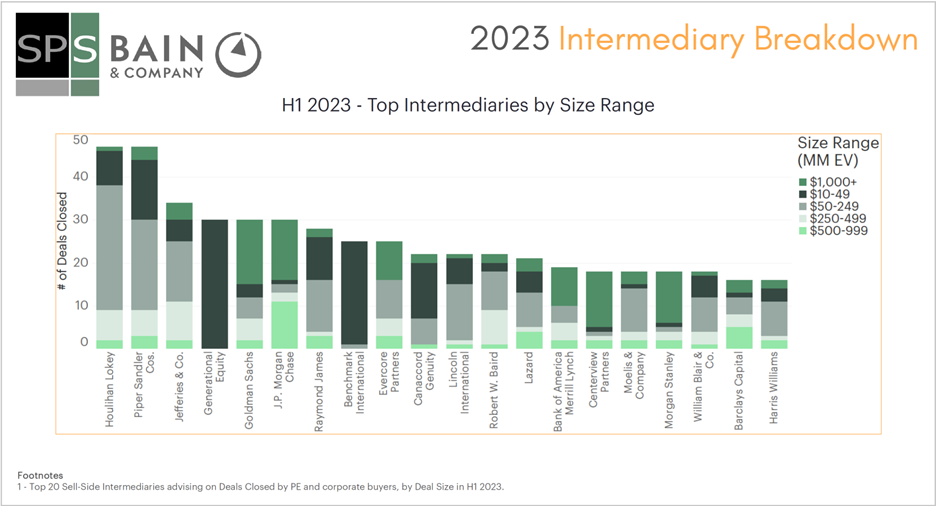 Myth #2: Dry Powder + Limited Assets = Higher Valuations
After record-high volumes of deals with record-high valuations closed in 2021, sponsors were well-positioned to raise larger funds than usual in the succeeding cycle. Now competing for opportunities to deploy that capital in a market with scarce quality deals, logic dictates that valuations would soar. However, the mismatch of supply and demand for deals is not the only factor influencing sponsors' appetite. Instead, concerns regarding macroeconomic conditions are driving a largely conservative approach on the part of sponsors today.
According to a recent SPS analysis, deals with EVs above $1,000MM have declined in each consecutive year since 2021, and 1H 2023 deal activity was below the historical median for this size range.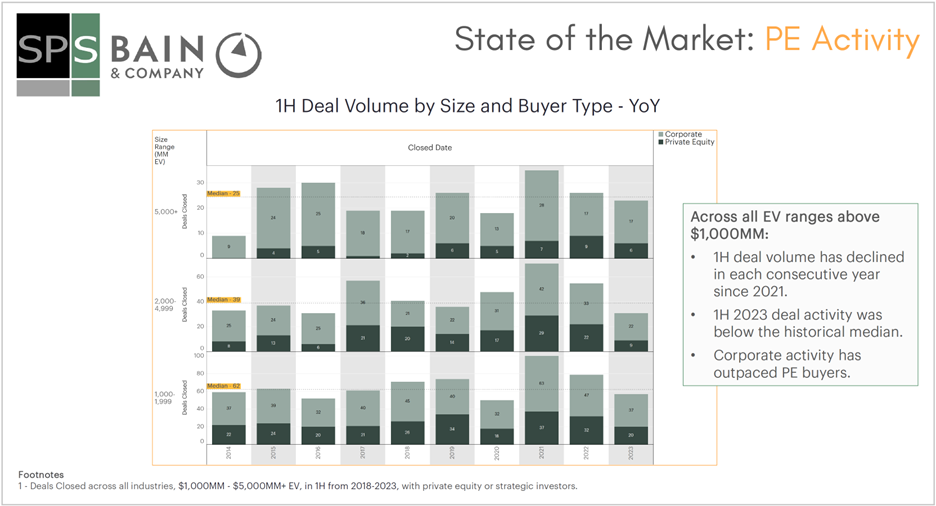 Myth #3: Good deals will dry up by 2024
With competition for quality assets at an all-time high and deal flow continuing to slow, pessimists are predicting a slow burn in deal activity into next year. But improvements in the credit market and the expectation that the Fed will halt the tightening cycle may give way to an infusion of liquidity in the coming months.
On our latest webinar, several panelists made an optimistic case for a bounce back in deal activity in the back half of 2023, pointing to a few key factors in the potential shift. With loosening financial conditions, buyers will have better access to capital – albeit at higher costs than preceding years. At the same time, many businesses that have demonstrated their resilience through challenging times – mitigating rising inflation, labor constraints, and supply chain issues – could inspire conviction and assertiveness on the part of buyers. A more aggressive approach from investors could, in turn, bring more sellers to the market – effectively serving to balance supply and demand in this scenario.
Signals are mixed on the outlook for financial conditions in the coming months, but we can say with certainty that sponsors are ready to capitalize as soon as circumstances permit. In preparation for the inevitable next deal boom, keep a pulse of market activity in your target sector with SPS, and view our most recent market activity analysis here.